About Givens Estates
Givens Estates is a non-profit Senior Life Plan Community (also known as a continuing care retirement community or CCRC) located on 215 acres in Asheville, North Carolina. For more than 40 years, our community has served the greater Asheville area by supporting senior residents in leading purpose-driven lives.
In addition to providing quality services and amenities, our community is financially sound with strong leadership. Givens Estates has been accredited by CARF since 1993, meaning our senior living community has passed an in-depth review based on national and international quality standards. Givens Estates has also received a A- rating by Fitch Ratings, indicating a positive outlook based on strong occupancy and financial strength.
For more information about CARF accreditation or Fitch Ratings, visit www.carf.org and www.fitchratings.com.
Learn more about Life Plan Communities by downloading the PDF below.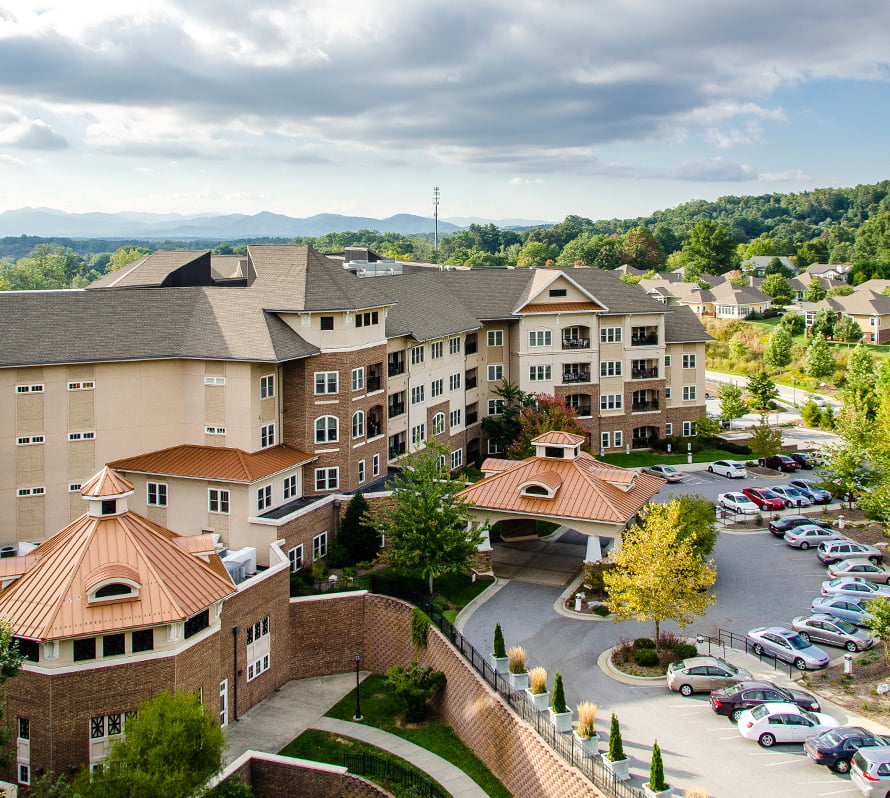 Purpose
Givens Estates community is intentional in its support of our residents' purpose-driven lifestyle. Whether you are content to pursue interests on campus or expand outside in the local community, you will find many opportunities. We provide support to help you devote your time and talents in ways that align with your values.
Passion
Givens Estates is your gateway to meaningful pursuits, whether they be social, intellectual, or physical.  Here you can spend your days immersed in fulfilling activities that bring you joy, fuel your motivation, and kindle your spirit.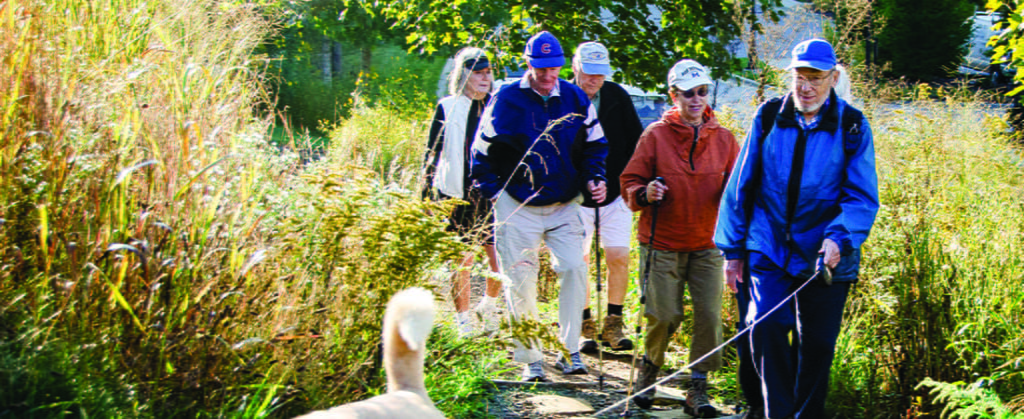 Possibility
Personal growth and enrichment take center stage in our community. Our expansive campus and mountain setting for exploring the great outdoors make you feel as though the world is at your feet. Educational lectures and programming expand your mind and lead to the discovery of new interests. Whatever you choose to do, you can do it at Givens Estates.
Our History
Givens Estates has a rich and expansive history that spans four decades of service. Our first residents arrived in 1979 thanks to the generosity of Marion Givens and her husband, Dr. Maurice Givens.
The Givens were charitable people who donated to hospitals, universities, and museums. The couple split their time between wintering at their home in Daytona Beach, Florida, and then cooling off during the summer months at their home in the mountains of Asheville.
During the final years of Mrs. Givens' life, with the help of a few trusted advisors, she arranged to leave 160 acres of her Asheville estate on Sweeten Creek Road with the stipulation it would be developed into a senior living retirement community. After her death, the Marion J. Givens Trust worked with leaders in the Western North Carolina Conference of the United Methodist Church to establish Givens Estates.
In 1979, the campus consisted of 78 one- and two-bedroom apartments within ten buildings, partly funded through HUD (Housing Urban Development). Givens Estate's relationship with the WNC United Methodist Church and the Marion J. Givens Trust has remained constant throughout four decades of exponential growth.
Givens Estates was the original Givens community, though there are now four senior living communities that comprise Givens Communities. The mission of Givens Communities is to improve lives of retirees through communities, services, and outreach. Learn more by visiting the Givens Communities website or reading the Givens Communities e-brochure.
Our Culture
Givens Estates creates a community where all can flourish. 
Our leadership, staff, and residents set expectations, and each person reinforces those norms through daily living. These individual actions, based on shared values and mutual support, contribute to the whole.
We promote inclusivity by aligning our words with our actions.
Givens Estates treats each person with dignity and respect and welcomes all as valued community members. Diverse viewpoints inspire growth and make us stronger. We love and appreciate the various voices and perspectives that contribute to our organization.
Add value to the world around us.
Our residents and staff give back to Givens Estates and the larger community. Whether they are volunteering, fundraising for a charitable cause, or donating their time or talent to make a difference, we support our residents in their efforts to be creators who take action.
Givens Estates empowers people to discover purpose, pursue passions, and realize possibilities.
Play Video
Learn more about living at Givens Estates
https://cdn.jwplayer.com/videos/GDV2sM43-kSTR9Fmq.mp4
Our Values
Givens Estates' vision and mission guide our daily operations and large-scale decisions as we set a path for the future. Our vision is "Endless Possibilities, Vibrant Aging", while our mission is "Creating Community, Empowering Lives". This vision includes the broader population of Western North Carolina and the residents within our Givens Communities organization.
Along with our vision and mission, the four core values of commitment, caring, courage, and collaboration guide our decision-making and strategic planning.
Our Commitment to the Environment
Givens Estates' awe-inspiring location in the Blue Ridge Mountains is one of our biggest blessings. We are fortunate heirs to 215 acres of mountain meadows and woodlands. Making responsible choices that preserve our region's natural aesthetic demonstrates our gratitude for this beautiful location.
Fourteen acres of meadows on Givens Estates' campus help reduce carbon emissions and support wildlife habitats. Our Grounds Department works closely with the Asheville Fire Department to maintain these meadows by performing controlled burns. This benefits the environment by encouraging new growth of desirable plants, reduces weed pressure and herbicide use, and provides habitat for animals.
Our Grounds Department emphasizes the use of native plants on campus. We incorporate plants from our natural areas into our more formal spaces. In forested areas, our team works diligently to remove invasive exotic species that disrupt native plant populations, such as Multiflora Rose and Oriental Bittersweet.
The installation of underground retention systems that capture parking lot and building run-off is essential for our water quality initiatives. The Clean Water Management Trust Fund awarded our community a $310,000 grant to improve water quality on campus, and we have performed various stream remediation/restoration projects.
Using solar energy to power our maintenance and grounds buildings is another example of our sustainability practices, as is incorporating organics (minimizing the use of fertilizers and pesticides) into the landscape. Much of the organic product used comes from composting over 70,000 pounds of leaves that are removed from the landscape.
Givens Estates is continuously looking for innovative approaches to achieve our sustainability goals. We strive to be good stewards of our 215 acres by preserving these beautiful outdoor spaces for our residents and future generations that follow.
Givens Estates Leadership
Our dedicated team members serve the residents with an expert balance of professionalism and compassion. Our corporate values of caring align with the personal values of every team member. In addition to serving in accord with our four core values, stability and loyalty are also prominent. You can easily find team members who have earned service pins ranging from 15 to 30 years.
Retire in Asheville
When you choose Givens Estates, you access the resort-style amenities and services of an active Life Plan Community.
You also benefit from having Asheville, North Carolina, as your home address.
Best Place to Retire
Asheville experiences 212 days of sunshine a year, but there is more to this area than blue skies along the Blue Ridge and a clear and bright forecast. The Asheville Area Chamber of Commerce lists Asheville's cost of living index as 100.5, right in step with the national average of 100. Plus, Asheville is known for its diverse dining scene with craft breweries and local restaurants. Of the cities on Money.com's list, Asheville was the destination with the highest number of bars and restaurants per capita.
With its natural beauty, affordable cost of living, vibrant dining and shopping, arts and culture, it is no wonder Asheville is a favorite among these national publications.
Local Attractions
The North Carolina Arboretum is nestled in the Southern Appalachian Mountains just south of Asheville, the 434-acre campus offers access to one of the most beautiful and botanically diverse natural settings in America, with 65 acres of cultivated gardens, 10 miles of dog-friendly hiking and biking trails and engaging programs and exhibits for all ages. For up-to-date information, including their current hours and prices, call 828.665.2492 or visit ncarboretum.org.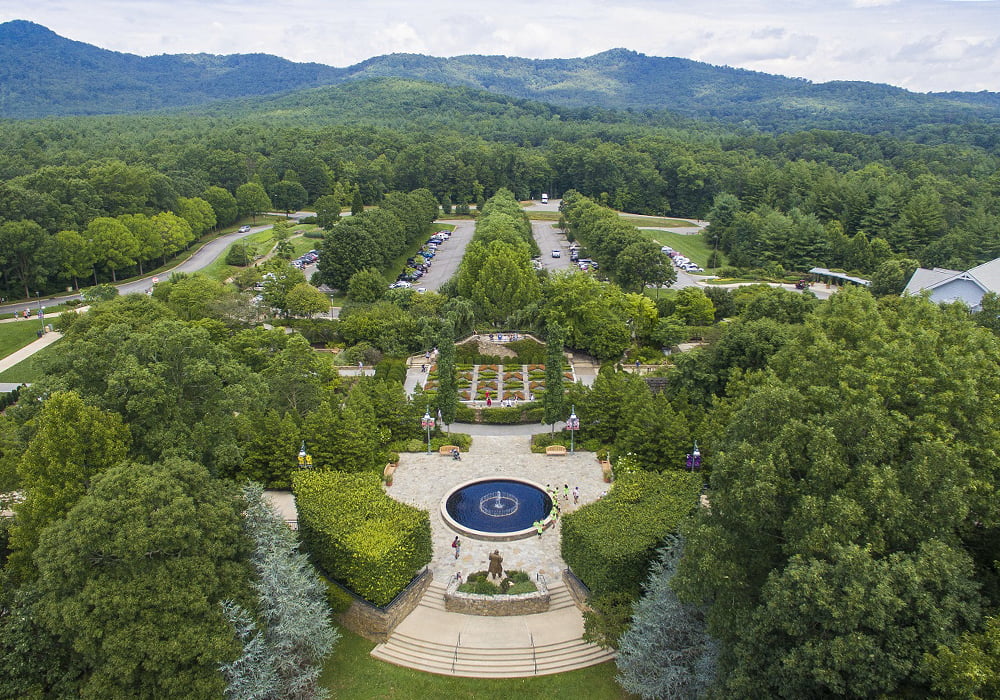 Blue Ridge Parkway
Asheville provides the ideal springboard for a visit on the Blue Ridge Parkway. You can head north and visit Mount Mitchell State Park, the tallest summit east of the Mississippi River. Or stick closer to home for the relatively short hike with a big panoramic payoff at Craggy Gardens Pinnacle. Or pack a lunch and walk to an overlook where you can take in the powerful beauty of one of Western North Carolina's waterfalls.
Whether you like to hike, bike, fish, or paddle, you will find numerous opportunities for outdoor recreation given the city's proximity to the Great Smoky Mountains National Park and Pisgah National Forest.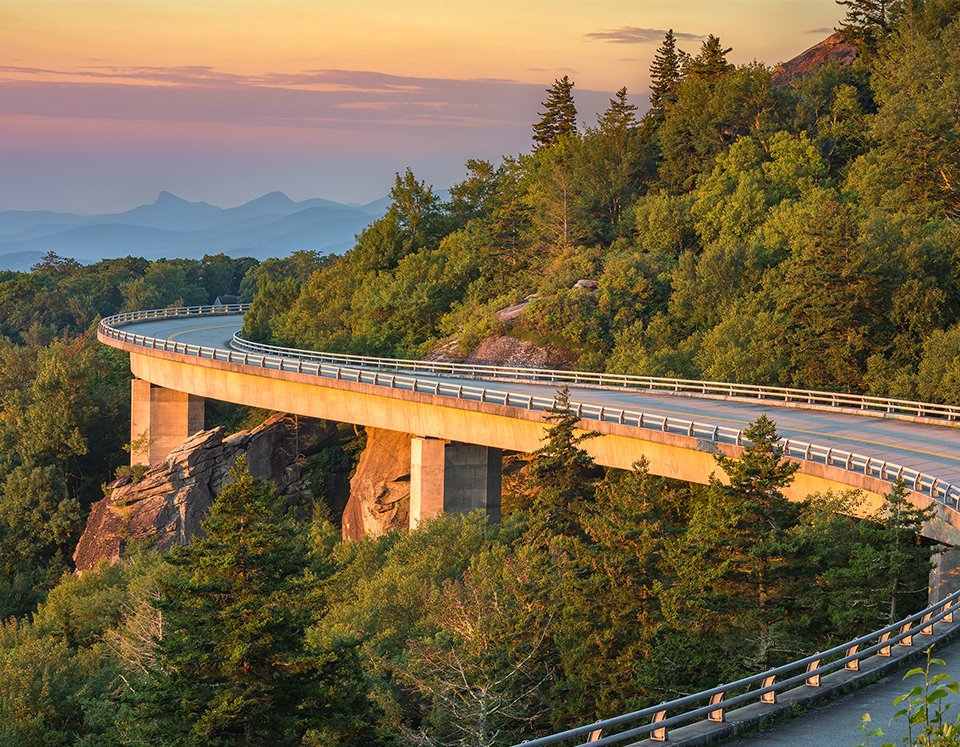 WANT TO SEE GIVENS ESTATES?
GET IN TOUCH WITH US TODAY!
Learn about all of the exciting features Givens Estates has to offer.
Giving Back
We are deeply committed to improving the quality of life for all the residents we serve. These continuing efforts welcome financial support for various programs and campus facilities. Your generosity ensures that Givens Estates secures its leadership position and service for future generations and strengthens our ministry to seniors. We value your impact and commitment to this worthy vision.
If you would like to discuss giving opportunities,
please reach out to us here.